We have moved!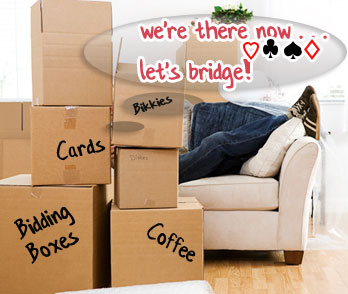 We've unpacked the boxes (some) in our very own Yurt on Lord's Roundabout and it's time to put our feet up and play bridge again. Ok it's also known as the fabulous Danubius Hotel. Come and join us on our bridge retreat for the next few months.
Come Yurt with us any day of the week for Chicago Bridge, and for Duplicate Bridge on Tuesday mornings and Friday nights. It's business as usual - somewhere different.
Our daily Chicago sessions and our regular duplicates and supervised practice will continue at the usual times (see left).
Come on into the hotel's reception and ask at reception for TGRs. We've made signs too. By the way - don't ask for the Yurt - they might look at you funny - as if anyone would look funnily at us bridge players!