News and Views
Our first Friday Cross Imp Pairs event was great fun. So we will do it again, and again every Friday night!
See you there. If you don't have a partner of the evening and fancy a game - do come along. Our hosts are friendly, experts in the game happy to share their knowledge, or just help you play to your best.
Our homemade food menu changes, so do have a look if you are coming direct from work. And the bar will be open throughout the evening serving a selection of fine ales and wines at special weekend prices.
On Friday December 20th, you are invited to join us for a Christmas Buffet supper with the usual Friday evening duplicate.
Our next trip to Scotland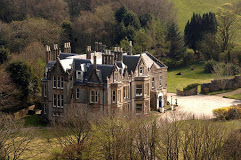 Our next trip will be to Balinakill Country House in Argyll, for five days beginning on March 28th. For details, talk to Marilyn or Artur at the club.